Distinguished Research Award
2011 Recipient: Sara Kadolph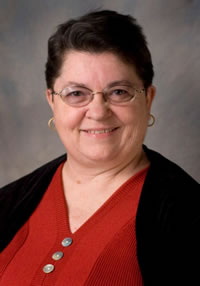 Sara Kadolph graduated in 1973 from K-State with a master's degree in clothing, textiles and interior design. She received her Ph.D. from the University of Minnesota and her bachelor's of science from Iowa State University - both in textiles and clothing.
Kadolph's career encompasses more than 35 years of teaching, research and leadership. She recently retired after a 30-year career at Iowa State University. She was named the Donna Danielson Professor of Textiles and Clothing in 2009 and is a fellow of the International Textiles and Apparel Association.
Kadolph's early research focused on clothing safety and product performance. Later in her career she became interested in sustainability issues and developed a passion for natural dye research. Her main focus as a university faculty member was on teaching and engaging students in learning. She received the USDA Food and Agriculture Sciences Excellence in Teaching Award for the North Central Region in 2002, and the Bobbin Educator of the Year Award from ITAA in 2000. Her research has been published in several journals related to college teaching, textile science, consumer education and research.
Kadolph is the author of several textbooks that focus on textiles and quality assurance in the textiles and apparel industry. Textiles, now in its 11th edition, is used in introductory textile science courses in more than 200 universities in the U.S. and internationally, and has been translated into Korean. Quality Assurance for Textiles and Apparel is now in its second edition. Textiles: Basics will be published later this year.
Unable to locate unitaddress.inc