Distinguished Research Award
2017 Recipient: Barbara Stoecker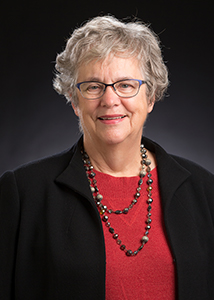 Barbara Stoecker is a Regents Professor in nutritional sciences and Marilynn Thoma Chair in Human Environmental Sciences at Oklahoma State University. Stoecker grew up on a farm near Atchison and was the third generation in her family to study in the College of Human Ecology at Kansas State University. Her interest in research began in an experimental foods class with Ms. Gwendolyn Tinklin and continued with an undergraduate research project with Dr. Jane Bowers. After receiving her degree in home economics education, Stoecker participated in the International Farm Youth Exchange (IFYE) program as a delegate from Kansas to Jamaica. After the program in Jamaica, she began work toward a Ph.D. in nutrition at Iowa State University where she met her husband, Art Stoecker, who was also a K-State graduate.
After completing her doctorate, teaching and research at ISU, Barbara and her husband moved to Thailand where he worked on an ISU project with the Ministry of Agriculture and she joined the National Nutrition Institute, then based in the Department of Pediatrics at Ramathibodi Hospital in Bangkok. She joined on-going projects on vitamin A needs in preschool children and was mentored by her colleagues in pediatrics on malnutrition issues in children.
After several years at Texas Tech University, there was an opportunity to move closer to home with their three children, and Barbara and Art began work at Oklahoma State University. Her work has focused on micronutrient requirements, and she served on the Institute of Medicine's panel to establish the recommended dietary intakes for Micronutrients and was awarded the College of Human Ecology Distinguished Service Award in 2001. At OSU, Barbara was head of the Department of Nutritional Sciences for 10 years; subsequently she assisted in the development of curriculum for nutrition programs in Ethiopia and has taught and advised graduate students in Ethiopia for more than 10 years.