Distinguished Research Award
2019 Recipient:
Matthew Johnson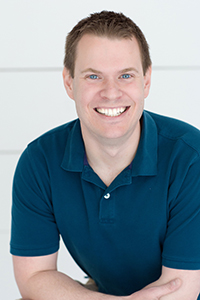 Matt Johnson graduated from Kansas State University in 2012 with a Ph.D. in marriage and family therapy. He moved to Canada that year as an assistant professor in family science at the University of Alberta and was promoted to associate professor in 2017.
His program of research focuses on understanding the development of couple relationships, a topic he explores in two main studies. First, he is a co-director of the Edmonton Transitions Study (ETS) with Drs. Harvey Krahn and Nancy Galambos. The ETS is a unique long-term longitudinal study that surveyed more than 900 (at baseline) Edmontonians eight times from ages 18 to 50. Second, he works with data from the German Family Panel (pairfam) study. Pairfam began in 2008 with a representative sample of 12,402 focal participants from three birth cohorts (adolescence, young adulthood and midlife) along with their intimate partners, parents and children. It is the largest study of families in the world, and Dr. Johnson just completed a one-year Mercator Fellowship in Germany working with the pairfam research team. He plans to launch a complementary large-scale study of families in Canada in the future.