Distinguished Service Award
2016 Recipient: David W. Andrews
1980 M.S. in child development
President, National University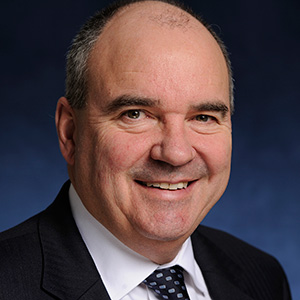 David W. Andrews recently became president of National University, California's second-largest private, nonprofit university, which serves 30,000 students. With three decades of acclaimed higher education experience in a broad range of academic and educational leadership posts, Andrews is leading National's commitment to transforming higher education through innovation, collaboration and an exceptional student experience.
Prior to coming to National University, Andrews was dean of the School of Education at Johns Hopkins University. During his tenure, the school established a reputation for quality that earned it U.S. News & World Report's No. 1 ranking of graduate schools of education for two years in a row. While at Hopkins, Andrews helped found the nonprofit organization Deans for Impact and led the design and build of the first new public elementary school in East Baltimore in over 25 years. Before his work at Johns Hopkins, Andrews led a merger that resulted in the creation of the College of Education and Human Ecology at The Ohio State University and was the new college's founding dean.
Andrews earned his bachelor's degree in psychology from Auburn University, a master's degree in child development from K-State and a doctorate, also in child development, from Florida State University. His scholarly work has focused on intervening in the life course of high risk students.