Entrepreneur Award
2011 Recipient:
Marc Shaffer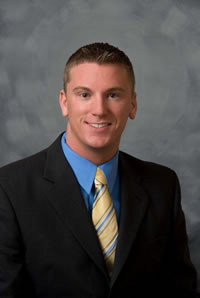 Marc Shaffer, principal, is a certified financial planner professional and an accredited investment fiduciary designee, who has been with Searcy Financial Services since 2006. He graduated from Kansas State University in 2005 with a bachelor's degree in personal financial planning and minors in business and economics.
Shaffer is also an enrolled agent (a federally-authorized tax practitioner) and a member of the National Association of Enrolled Agents, Investment Management Consultants Association (IMCA) and Fiduciary Society for Ethical Financial Practices (FSEFP).
Shaffer serves as the career chairman of the Kansas City Chapter of the Financial Planning Association, where he helps individuals interested in pursuing a career in financial planning get connected into the community. He was chosen by KC Magazine as a member of the 2010 class of "Rising Stars," individuals under 40 years of age making a difference in their community and business, and was also awarded the 2011 KSU Entrepreneur Award, which recognizes K-State alumni who have applied their knowledge as an owner of a business, and serve their community, profession and university.
As an active member of the Overland Park South Rotary Club, Shaffer contributes his time and energy to philanthropic events like the Jazz in the Woods festival at Corporate Woods, where he served as chairman in 2011. He has also been recognized as a Paul Harris Fellow award winner and serves on the Kansas City K-State Alumni Planning Committee.
Shaffer recently completed his third Kansas City half marathon and is working toward completing his first full marathon in the near future. In 2010, he rode 182 miles across Missouri over two days in the MS150 Bike Ride which raised money for multiple sclerosis research.