Entrepreneur Award
The Entrepreneur Award recognizes a Health and Human Sciences graduate's entrepreneurial spirit and success in business. To be considered for this award, the recipient must demonstrate significant success in applying Health and Human Sciences knowledge as a business owner. Recipients also make contributions and provide leadership in community affairs, organizations and service groups and have demonstrated support of K-State and the College of Health and Human Sciences.
2018 Recipient: Jill Mason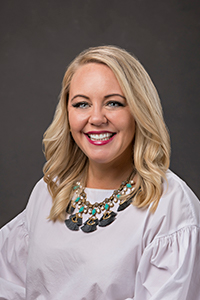 Jill Mason has always called Kansas home and there was no place like the Little Apple to begin her entrepreneurial career. Upon graduating from Kansas State with a degree in Hotel and Restaurant Management, Mason landed a job as a special events planner for the Kansas City Chiefs. After spending time in Kansas City, Mason relocated to Los Angeles where she was responsible for planning and executing events for the LA Galaxy, Los Angeles Lakers, Los Angeles Kings and the Los Angeles Dodgers. Absorbing all that the big city had to offer, she was involved in large and unique events such as VIP parties for the Emmy's and Grammy Awards, NBA playoff games and annual celebrations like the Kentucky Derby.
In 2012, Mason decided to return home. She returned to Manhattan to help begin the catering department of a brand new corporate hotel and conference center. A few years following, Confetti & Cashmere was born. The business was founded on custom hand-crafted party items along with soirée styling. In early 2015, Confetti & Cashmere opened their brick and mortar store in historic Downtown Manhattan. The boutique focuses on upscale trendy paper products, custom made items and gifts and provides event and gala coordination and rentals.