Entrepreneur Award
2014 Recipient:
John Ross Harmon
2007 B.S. in Hotel and Restaurant Management
Owner, John Ross & Co. Signature Catering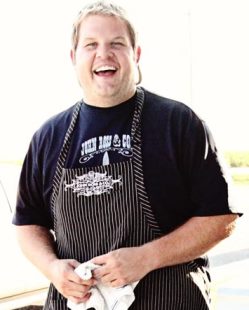 John Ross Harmon offers catering services throughout Kansas and the Midwest. He started his Garden City-based business in 2010 after working as a chef at John Elway Steakhouse and at the Ritz Carlton Hotel in Denver.
He designed and built a 35-foot mobile kitchen that allows him to cater events within an 800-mile radius of Southwest Kansas. From there he has fed groups ranging in size from 25 to 5,000. He specializes in weddings, rehearsal dinners and company meetings.
He says his menu mixes down-home food that his mother taught him to cook with the five-star cuisine he learned at the Ritz-Carlton. He specializes in made-from-scratch food such as mini beef Wellingtons, Cajun gumbos, Italian dishes and barbeque. Being a big supporter of the cattle industry, Mr. Harmon enjoys cooking beef more than anything.