Entrepreneur Award
2022 Recipient:
Alicia Ybarra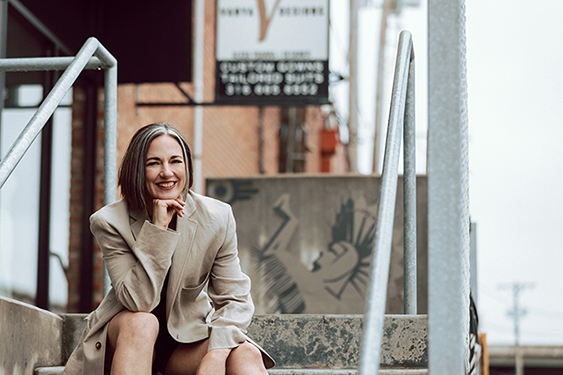 Alicia V. Ybarra is the chief executive officer and lead designer of Vanya Designs. She graduated from K-State with a master's degree in apparel and textiles in December 2003. After graduating, she worked herself up from a retail sales associate to a corporate product development position for a company in Tennessee that has since gone bankrupt, but found she hated the office atmosphere and cut-throat corporate culture. She had been working weekends, taking sewing jobs on the side and decided to quit the corporate job and focus on raising her two boys and design and sew from home. Three years of sewing from her basement led to opening her first storefront in 2010.
In addition to owning and operating Vanya Designs for the past 13 years, her passion is bringing to life couture bridal and formal wear. Through a customized couture experience, she works closely with each client to realize their dreams in the design she creates. She has designed and created over 700 unique couture gowns during her career. Her gowns have been worn in Dallas, Los Angeles, Las Vegas, the mountains of Colorado, and even as far as England and France. Her collections have shown at Omaha Fashion Week and the Chicago Bridal Market.
Ybarra believes that Wichita should hold a place on the fashion map and is actively working to further that mission by providing internships and support to students in the fashion industry. She founded and directed a non-profit charity event, Fashion Avant, in 2019 which showcased designs from five local designers. From the proceeds of that show, Vanya Designs was able to support a new local fashion event, ICTFashion Tour. Ybarra branched into Avant Garde with a local sculpture artist, Christopher Gulick, which led to showing their collaborative Wearable Sculpture collection in New York Fashion Week in February of 2020.
During the pandemic, Vanya Designs pivoted to produce fabric face coverings and water-resistant surgical gowns. At the same time, Ybarra created a virtual design process which allowed brides to begin their design journey from the safety of their homes. This pivot allowed the company to stay open and keep the team employed.
Since the pandemic, she has turned the focus of the company toward the health and well-being of its clients and team members. Ybarra and her husband of 23 years are adopting a third son and the restructuring of the company has allowed her and her team to spend a bit more time with their families. Her current goal is to capitalize on the company's virtual design process to be able to have a further brand reach, providing brides across the country with the same couture experience that leaves them feeling beautiful and loved.