About the K-State Family Center
The K-State Family Center provides high-quality, affordable individual, family, couple and group therapy for people living in the Manhattan area. Couple and family therapy faculty, doctoral and master's student staff the center. Students perform therapy services under the direct supervision of the CFT faculty and other approved supervisors to fulfill the academic and licensing requirements for the marriage and family therapy or family life education programs.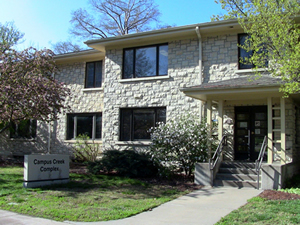 Renovated and expanded in 2005, the Campus Creek Complex is home to the K-State Family Center. The center has family and individual therapy rooms, a group therapy room and a play therapy room, which is specifically designed to work with children and families in an experiential process. Contact us at 785-532-6984.
Take a 3D tour of our facility: