Therapy for Couples
The everyday challenges of life are enough to cause conflict for couples. Each individual has their own needs, feelings, wants, hopes, and dreams which can lead to arguments and misunderstandings. These challenges can harm the relationship's emotional, sexual and physical wellbeing. Couples therapy can help partners explore these issues and discover ways to better their relationship.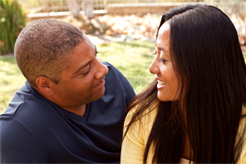 By calling the Family Center, interested couples can make an appointment with an intake therapist. From there, couples will be matched with a therapist or co-therapists. Relationships take work and sometimes couples get pushed to their limits. There can be a solution. Couples may be dealing with:
Communication issues
Sexual issues
Parenting issues
Domestic violence
Affairs
Stress
​Mental illness
​Intimacy issues
Other areas
​ To make an appointment call 785-532-6984.
The Family Center serves people of all races, cultures, religious affiliations, sexual orientations, gender identities and financial backgrounds.