About the Museum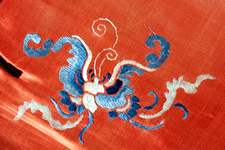 The Historic Costume and Textile Museum is a notable collection of traditional and artistic artifacts. With over 15,000 holdings, the collection includes a number of Nelly Don dresses, wearable art from Anita Mayer, American quilts, salon shoes, military uniforms, Byzantine-era textiles, Chinese and other ethnic textiles, and clothing and textiles from famous and not-so-famous midwesterners. The collection began at the beginning of the 20th century and continues to be augmented by friends, faculty and Kansas State University alumni who have lived and traveled throughout the world.
Mission
The mission of the museum is to preserve clothing and textile items of historic and artistic value that will facilitate educational, research and service activities in the department, the college and the university.
Ownership and Administration
The museum is administered by the Department of Interior Design and Fashion Studies in the College of Health and Human Sciences, Kansas State University.
The museum is located inside Justin Hall, where it is maintained in a climate- and light-controlled secure environment.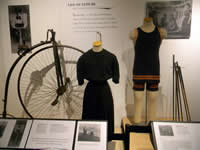 Exhibits of the collection holdings rotate throughout the Justin Hall display cases.
The museum works together with other K-State and community partners such as the Marianna Beach Museum of Art, the Kemper Art Gallery at the K-State Student Union, and the Manhattan Arts Center to feature selections from the collection.
The museum also collaborates with area art and history museums that support a greater understanding and appreciation of historic dress and material culture in the community.
Some of the exhibits are the work of student assistants or volunteers who learn about creating historical exhibits.
Goals
The museum contributes to the mission of the Department of Interior Design and Fashion Studies, the College of Health and Human Sciences, and Kansas State University by its use in support of the following goals:
To serve as an active repository for significant clothing and textiles artifacts acquired by the department
To preserve this museum for use by present and future generations as a resource for instruction and research
To promote the study and understanding of artifacts in the museum
To support department curricula, especially in the area of historic costume and historic textiles