Bachelor of Science in Public Health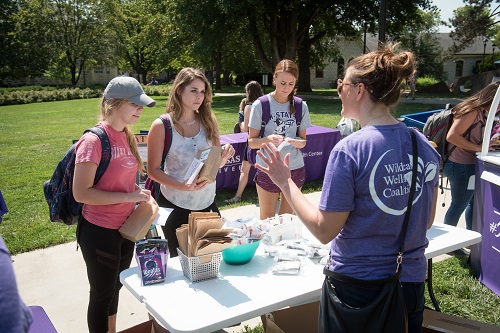 The BSPH degree is designed to prepare you for careers in a variety of public health fields, as well as for graduate or professional education in health-related fields. If you are interested in obtaining a Master of Public Health (MPH) degree, you can pursue a concurrent BSPH/MPH degree at K-State. The concurrent degree allows 9 credit hours to be shared between the two degrees, thus saving you time and tuition expenses. You may also choose to pursue further education in a related healthcare program such as physical or occupational therapy, physician assistant, nursing, or medicine.
The Bachelor of Science in Public Health (BSPH) Degree is:
The only program of its kind in Kansas.
Designed to provide students with a strong foundation for careers in public health and health-related fields.
Included in the degree are:
A core set of fundamental public health courses.
A three-course practicum series providing real-world exposure to public health.
A variety of public health electives.
The flexibility to choose additional coursework electives to tailor the degree to your interests.
As a collaborative degree, courses are offered across multiple departments and colleges, exposing you to the breadth of public health and providing a comprehensive education in this rapidly growing field.
Career Paths:
Social and Community health services manager, Health educator, Fitness and wellness coordinator, Occupational health and safety specialist, Health communications specialist, Public health analyst, Biostatistician, Epidemiologist, Healthcare administration, Clinical/research coordinator (additional education/certifications may be required)
Example of graduate/professional pathways for BSPH majors:
Health professions

Physical Therapy
Occupational Therapy
Medical Doctor/Physician Assistant
Nurse/Nurse Practioner

MPH - Master of Public Health
DrPH – Doctorate in Public Health
MS/PhD

Kinesiology
Food, Nutrition, Dietetics and Health
Health Promotion/Health Education
Epidemiology
Biostatistics
Applied Family Science
Couple and Family Therapy
Environmental Design and Planning
Leadership Communication
Social Work
JD – Public Health Attorney
For More Information:
Please contact Jennifer Miller, the Director of the Bachelor of Science in Public Health or an Academic Advisor with specific questions and guidance on this degree path.