Physician Assistant Program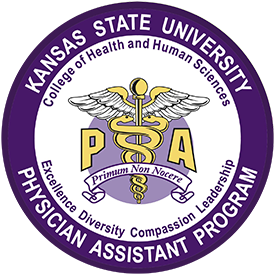 Kansas State University physician assistant program leads to a Master of Science in Physician Assistant Studies (MSPAS) degree. The program follows the traditional medical model of training, providing in-depth analysis of disease processes, diagnosis and treatment, and prepares students to serve as primary health care providers who practice medicine with physician supervision.
The 27-month physician assistant program will admit 44 students once a year, and is designed to prepare graduates to provide medical care as part of an interprofessional health care team. The curriculum consists of three semesters of classroom training (didactic), followed by four semesters of clinical rotations (clinical). All students enter as a single cohort in early January, complete seven continuous full-time semesters, and graduate in May with a Master of Science in Physician Assistant Studies (MSPAS) degree.
What is a Physician Assistant?
Physician Assistants are skilled members of the health care team qualified to provide a broad range of health care services in practice with a licensed physician. PAs perform medical interviews and physical examinations, screening and interpreting results of diagnostic studies, diagnosing patients, implementing treatment plans, counseling patients regarding illness and preventative medicine, monitoring patients, and facilitating access to appropriate health care resources. These services may be provided to individuals of any age in various settings.
Physician Assistants must graduate from programs accredited by the Accreditation Review Commission on Education for the Physician Assistant (ARC-PA), be certified by the National Commission for Certification of Physician Assistants, and be licensed or registered by the individual's state board of medical examiners. Continued certification requires 100 hours of continuing medical education every two years and passing the recertification examination every ten years. The proficiency and cost effectiveness of the physician assistant demonstrate PAs are an important source of health care within the state of Kansas, nationally and internationally.
Physician Assistants work in a variety of clinical practice settings with physicians. PAs may work in any setting from large academic institutions to remote rural areas. PAs work in hospitals, single and multi-specialty practice groups, public and private clinics, armed services and many other settings. PAs work in every area of medicine including primary care and specialty and subspecialty practice. More information on the work setting and salaries of PAs may be found through the American Academy of Physician Assistants (AAPA).