Audiology
The K-State Speech and Hearing Center provides comprehensive hearing evaluations and aural rehabilitation services across all age groups. In addition to identifying the presence or absence of a peripheral hearing loss, the K-State Speech and Hearing Center is equipped to evaluate central auditory processing skills in children. A child exhibiting central auditory processing problems will often experience greater difficulty attending to, discriminating, recognizing, or comprehending speech information presented to the auditory system, even though the child has normal intelligence and hearing sensitivity.
The aural rehabilitation program offered at the K-State Speech and Hearing Center focuses on improving the hearing impaired individual's ability to successfully function in many different hearing environments. The aural rehabilitation program consists of a hearing aid evaluation, hearing aid fitting and individual therapy sessions that focus on becoming an active listener and improving speech-reading skills.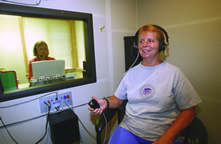 All audiological testing is supervised by a licensed audiologist. Services are provided to individuals without regard to age, race, color, sex, national origin or religion, handicapped or veteran status. Concerns regarding clinical services should be directed to the clinical director (Melanie Hilgers, mhilgers@k-state.edu) or the program director (Robert Garcia, rgarcia@k-state.edu).