Jared Durtschi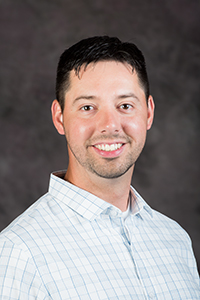 Professor
Contact Information
209 Campus Creek Complex
(785) 532-1488
jadmft@k-state.edu
Education
Ph.D. in Marriage and Family Therapy, The Florida State University (2011)
M.S. in Child Development and Family Studies, emphasis in Marriage and Family Therapy, Purdue University Calumet (2007)
B.S. in Psychology, Brigham Young University (2004)
Area(s) of Specialization
Romantic relationship quality, stability, and process
Family process between parents and children
Quantitative methods studying longitudinal, dyadic data with large secondary data sets
Courses Taught
MFT 805: Solution-Focused Brief Therapy
MFT 885: Practicum in MFT (MS)
MFT 896: Advanced Family Therapy
MFT 910: Advanced Research Methods in MFT: SEM I
MFT 985: Practicum in MFT (PhD)
MFT 986: Practicum in Supervision of MFT
Professional Biography
Dr. Jared Durtschi is an assistant professor of marriage and family therapy in the Department of Applied Human Sciences at Kansas State University. His research and clinical concentration is on romantic relationships and family processes. This research is guided by family systems theory. Dr. Durtschi studies couples and families by analyzing longitudinal, dyadic data using quantitative methods, with large publicly-available data sets to further his program of research. His area of programmatic research advances what is known about couple and family relationships, and the clinical treatment involved with improving these relationships. He has a thematic focus on cognitive, affective, and behavioral interactions between romantic partners and family members—couple and family-processes—linked with improved relationship outcomes. Dr. Durtschi enjoys mentoring and working with graduate students in research. He was awarded the Dawley-Scholer Student Development Award for excellence in teaching and mentoring graduate students.
Dr. Durtschi has partnered with Drs. Sandra Stith and Jared Anderson to receive continuous funding for the past 4 years through the U.S. Air Force and the Kansas Department of Children and Families. These projects involve developing and testing interventions designed to help families. For the past 4 years, he has annually provided research and statistical mentoring to 25 doctoral students in MFT programs who are recipients of the AAMFT Minority Fellowship by providing workshops, webinars, and one-on-one phone consultations. He serves on the editorial board for the Journal of Marital and Family Therapy and the Journal of Couple and Relationship Therapy. Dr. Durtschi is a current member of the American Association for Marriage and Family Therapy (AAMFT) and the National Council on Family Relations (NCFR).
Personal Information
Dr. Durtschi grew up in many different locations in the U.S., Canada, and Europe. He has been married for 17 years and has three young children. In addition to his work responsibilities, he enjoys spending time with his family, traveling, snowboarding, kayaking, horse riding, and mountain biking.