Kristin Pelczarski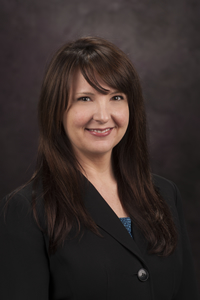 Associate Professor
Contact Information
234 Campus Creek Complex

kpelczar@k-state.edu
Education
Ph.D. in Communication Science and Disorders, University of Pittsburgh, Pittsburgh, Pennsylvania
M.A. in Communication Science and Disorders, University of Pittsburgh, Pittsburgh, Pennsylvania
B.A. in Speech and Hearing Science, George Washington University, Washington, D.C.
Credentials and/or Certifications
American Speech, Language, and Hearing Association (ASHA)
Certificate of Clinical Competence (CCC)
Kansas State License in Speech-Language Pathology
Area(s) of Specialization
Stuttering (Fluency and Fluency Disorders)
Phonological Processing
Phonological Encoding
Eye-tracking
Professional Issues Related to Speech-Language Pathology
Research, Scholarship and Creative Endeavors
Stuttering is a multifactorial disorder with deficits in the motor and language planning systems. Isolating only the linguistic aspect of stuttering is difficult when the motor system is involved in speech as well. To address this problem, Dr. Pelczarski's research investigates stuttering and the language planning deficits associated with stuttering. Her research tracks eye-gaze movements and pupil dilation to investigate the underlying linguistic mechanisms that contribute to stuttering without interference from the speech-motor system.
Dr. Pelczarski has co-authored several book chapters on stuttering, served as peer-reviewer for professional journals and has presented her research at local, national and international conferences. She has served on a dozen master's thesis committees and supervised several undergraduate research projects throughout her career.
Courses Taught
CSD 446 Speech Sound Disorders
CSD 701 Research Experience in Communication Sciences & Disorders
CSD 705 Clinical Supervision
CSD 741 Stuttering
CSD 750 Voice Disorders
CSD 851 Professional Issues in Speech-Language Pathology
Professional Biography
Kristin M. Pelczarski, Ph.D., CCC-SLP, is an associate professor at Kansas State University, where she teaches graduate classes on stuttering and professional issues in speech pathology. She also serves as a clinical supervisor to graduate student clinicians working in the K-State Speech and Hearing Center. Dr. Pelczarski received her undergraduate training in speech and hearing science at George Washington University in Washington, D.C., and her master's and doctoral training at the University of Pittsburgh in Pittsburgh, Pennsylvania. She is a certified speech-language pathologist whose primary area of research is stuttering and other fluency disorders. She has worked clinically for eight years at the Children's Hospital of Pittsburgh, serving preschool, school-age and adolescent children who stutter and their families. Dr. Pelczarski is an active member of the National Stuttering Association (NSA), a self-help group dedicated to helping people who stutter have an improved quality of life. Dr. Pelczarski serves as co-chair and mentor to the local Manhattan, Kansas, Chapter of the NSA. The group meets on campus on the third Thursday of every month.
Personal Information
Dr. Pelczarski says the small graduate class sizes in communication sciences and disorders (CSD) provide lots of opportunities for faculty to interact with top-notch graduate students on a daily basis. She believes the quality of the students, faculty and staff in CSD make K-State a great place to be.