Melanie Hilgers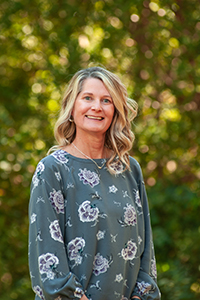 Clinical Associate Professor
Contact Information
116 Campus Creek Complex
(785) 532-6879
mhilgers@k-state.edu
Education
M.S. in Speech Language Pathology, Fort Hays State University, Hays, Kansas, 1998
B.S. in Speech Language Pathology, Fort Hays State University, Hays, Kansas, 1996
Credentials and/or Certifications
Certificate of Clinical Competencies in Speech-Language Pathology
Area(s) of Specialization
Communication development and disorders associated with preschool through school-aged population
Early intervention
Auditory processing disorders
Clinical instruction and supervision
Research, Scholarship and Creative Endeavors
Preschool speech and language
Courses Taught
CSD 549 Clinical Procedures in Communication Disorders
Professional Biography
Melanie earned a bachelor's degree in speech-language pathology in 1996 and a master's degree in speech language pathology in 1998 from Fort Hays State University. After graduation she worked as a school-based speech-language pathologist in a variety of districts across the state of Kansas for nine years. She provided direct speech and language services to children ranging in age from three years to 21 years. Hilgers was an active member of student improvement teams to address the needs of all children.
She began her position as clinic director at Kansas State University in August 2007. Her responsibilities include overseeing the day-to-day operations of the K-State Speech and Hearing Center clinic, instruction, supervision of graduate clinicians and establishing externship sites for off-campus placements. She finds great pleasure in training and mentoring future speech-language pathologists.
Personal Information
Hilgers believes K-State is a great place to work and grow as a professional. She enjoys her daily interactions with the students, faculty and the community. Teaching and supervising provides her with the opportunity to mentor and guide future professionals. She appreciates working in a clinical environment that supports communication needs of individuals in the community.