Robert G. Garcia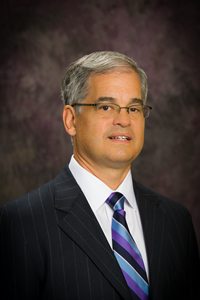 Clinical Associate Professor
Program Director
Contact Information
237 Campus Creek Complex
(785) 532-6879
rgarcia@k-state.edu
Education
Doctor of Audiology (Au.D.), A.T., Still University-Arizona School of Health Sciences, 2003
Master of Business Administration (M.B.A.), University of South Alabama, 1992
Master of Science (M.S.) in Audiology, University of Nebraska-Lincoln, 1983
Bachelor of Science (B.S.) in Psychology, University of Nebraska-Lincoln, 1981
Credentials and/or Certifications
Certificate of Clinical Competence-Audiology, American Speech-Language-Hearing Association
Area(s) of Specialization
Courses Taught:
FSHS 361 Hearing Science
FSHS 567 Basic Audiology
FSHS 706 Audiology Practicum
FSHS 744 Aural Rehabilitation
Professional Biography
Dr. Garcia's interest has always been in the area of clinical audiology. He has worked in a number of work settings that have provided a wide range of experiences. The work settings have included a Veteran's Administration hospital, a university medical center, an audiology training program and, of course, Kansas State University. His role at Kansas State University is to provide leadership as a program director, teach undergraduate and graduate coursework, and provide clinical services to the general public. Dr. Garcia says Kansas State University has been a very rewarding institution to work at and his plan is to continue here for many years. His teaching interests are in the areas of hearing science, clinical audiology and aural rehabilitation.
He currently serves as the director of the program in Communication Sciences and Disorders. In addition, as a licensed audiologist he trains and supervises students to provide audiological services to individuals in the surrounding community at the K-State Speech and Hearing Center. Throughout his professional career, he has always found it enjoyable working with students. Specifically, he claims it has been very rewarding to help students progress through their undergraduate and graduate training programs to eventually become professionals in the areas of speech-language pathology and audiology.
Personal Information
As a professional working in the health care field, many of Dr. Garcia's most significant accomplishments are related to helping people with hearing disorders. This has ranged from fitting an infant with hearing aids so they are able to hear their parents' voices, to helping parents understand how they can help their nine-year-old who has been diagnosed with an auditory processing disorder, to providing aural rehabilitation services to senior citizens with a permanent hearing loss. Born in Oakland, California, Dr. Garcia grew up in a number of different cities located on the West Coast, in the Northwest and in the Midwest. He completed high school in Omaha, Nebraska, and attended college at the University of Nebraska-Lincoln. During his professional career as an audiologist, he had the opportunity to work in a number of different settings. This includes working at a Veterans Administration Hospital, a university medical center and university training programs. Dr. Garcia is married to a fourth-generation graduate of Kansas State University and, therefore, his household is required to always root for K-State, even when they play Nebraska.