Taylor Williams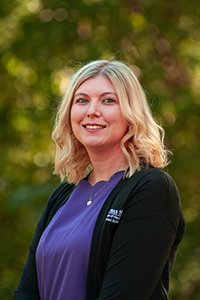 Academic Advisor
Contact Information
301D Justin Hall
785-532-5773
taylor01@k-state.edu
Education
M.S. in Academic Advising, Kansas State University (Anticipated Graduation December 2021)
B.S. in Family Studies and Human Services, Kansas State University
Credentials and/or Certifications
Academic Advising Graduate Certificate, Kansas State University (Anticipated Completion December 2021)
Professional Biography
After graduating from KSU in 2014, Taylor stayed in the Manhattan area and worked as the Client Services Coordinator at the Flint Hills Breadbasket (a non-profit community food network) for four years. Taylor is dedicated to helping the community and throughout her employment at the Flint Hills Breadbasket was an active member of the Riley County Council of Social Service Agencies where she helped plan events in the Manhattan area. Over the past two years, Taylor has been studying towards her Master's Degree in Academic Advising and greatly enjoys assisting students with their education and career goals.
Personal Information
Taylor is a lifelong resident of the Wamego/Manhattan area and enjoys spending time with her family and friends. She and her fiancé Tim enjoy taking their two English Bulldogs for short walks around the neighborhood and also like to spend time playing ping pong and yard games with Taylor's family.