Integrative Human Sciences
Integrative Human Sciences
Read what we are doing to promote diversity, inclusion, and social justice.
Are you curious? Do you love to learn? Do you love people and want to make the world a better place? If so, the Integrative Humans Sciences (IHS) major is for you!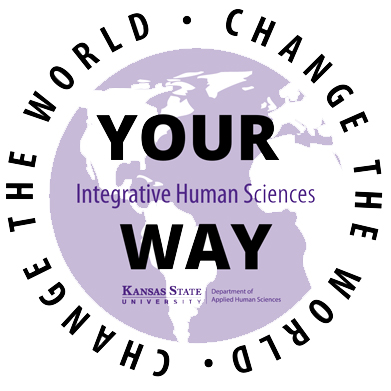 The IHS degree offers a dynamic approach to studying the well-being of individuals, families and communities in a global environment.
As an IHS student you will gain skills to understand human behavior within context and apply what you learn to real world situations. You will be prepared to change the world, your way.
"It was a place that helped me when it felt like no one was willing to help. They helped me to get my future plans in order and to finish out my college career boldly and with passion. There was always a smiling face every step of the way, whether that be the professors or the advisor. Everyone contributed to the success that you will find in the IHS program."
(Alumni, 2023)
Our course work provides a foundation in well-being and human behavior. You then work with your advisor to select areas of concentration specific to your personal and professional goals.
Examples of concentration include pre-nursing [Wichita State Pre-Health], community health, pre-law, fashion studies, personal financial planning, hospitality management, food science & industry, global food systems, spanish, and more.
Unique degree tailored to each student
Certification and licensure opportunities
Careers Opportunities*
Registered Nurse
Physician's Assistant
Extension Agent
Family and Consumer Science Teacher
Case Manager
Policy Analyst
Counselor
Child and Youth Specialist
Lawyer
Nutrition Educator
Community Health Worker
Hospital or Non-Profit Administrator
*some careers may require additional education
See our program guide (pdf) to see the career possibilities and coursework.
Please contact Dr. Kari Morgan for additional information.