Communication Sciences and Disorders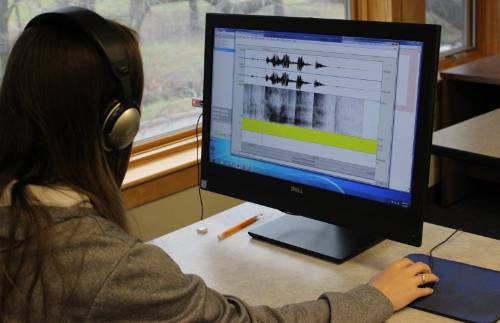 Research conducted by the faculty in Communication Sciences & Disorders contributes to the health and well-being of both children and adults who may experience difficulty with communication and/or impaired swallowing. Areas of scholarship encompass:
Augmentative & Alternative Communication (AAC)
AAC includes variables that affect attitudes and communicative behaviors in interactions that involve the use of speech-generating devices. The outcomes of this research are aimed at improving the design and use of AAC systems so that people who use these systems communicate optimally.
Dysphagia (Impaired Swallowing)
Dysphagia may lead to serious medical conditions such as dehydration or pneumonia. Diet modifications, such as thickened liquids, compensate for poor musculature control or changes in the natural protective mechanisms of the body that make it difficult to swallow beverages like water or coffee. Studies have examined the use of thickened liquids, including tools for measuring beverage thickness and service delivery (e.g., staff training).
Stuttering
Stuttering research addresses underlying mechanisms of speech and language planning to determine the role they play in the onset and maintenance of stuttering in children and adults. These mechanisms can be difficult to measure directly because they are processes that are deeply embedded within the language planning system and are difficult to differentiate from influences of the speech-motor system. Research utilizes eye tracking, a relatively novel methodology in the field of stuttering, to investigate and differentiate these mechanisms.
Traumatic Brain Injury (TBI)
Voice
Voice research focuses on functional, auditory-perceptual, acoustic, and physiological characteristics of voice following treatment, as well as the voice use and voice characteristics of student clinicians. An additional interest area deals with abdominal breathing, a strategy used to manage breathing problems resulting from abnormal behavior of the vocal folds
For more information, contact our Research Faculty: