Conflict Resolution Center
Our conflict resolution services are available to the public and involve the mentoring of new mediators from across the state, both in-person and online. Our mentor mediators are recognized by the Kansas Supreme Court Office of Judicial Administrative. The majority of our mentors and mentees are graduates of K-State's Conflict Resolution Certificate and CATS Minor programs.
We provide mediation and conciliation services to a variety of individuals, both on-campus and off-campus. Our fees are set on a sliding fee scale based on gross income earnings. Our maximum fees are based on a higher than average income and then fees are scaled back according to income increments so that our services are affordable for the majority of individuals.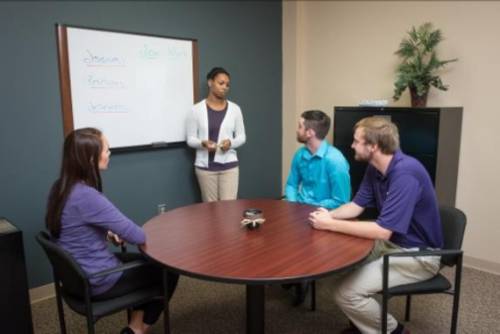 Conflict resolution…
Can be faster and cost less than facing natural or imposed outcomes.
Promotes creative solutions specific to your concerns and needs.
Considers challenges that people face and works to find solutions that everyone can live with.
Mediators assist the people involved to make decisions and create new solutions about what works best in their lives. The mediator assists by helping to define the concerns or clarify challenging problems and by helping the people involved to develop possible alternatives or solutions.
Our services are known and trusted by the local community because we strive to provide the best mediation and conciliation services possible.
Our Mission
Personal growth through learning and mentoring. Public growth through resolving conflict.
For more information, our location, or to schedule an appointment, contact us.