Giving and Membership
To share its collection, exhibitions, and programs, the Historic Costume and Textiles Museum (HCTM) relies on donors, sponsors and volunteers who provide gifts of time, talent and treasure. Each partner assists the HCTM in its mission to explore, preserve, promote and support.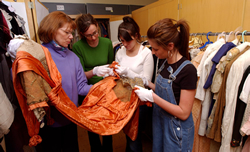 There are many ways to support the Historic Costume and Textile Museum at Kansas State University, with many benefits and opportunities offered to recognize and thank our donors and volunteers. Your contributions are essential to our ongoing success. We preserve more than 15,000 artifacts in limited space and make them available to the public, researchers and students on a regular basis. Our collection is truly a treasure and one of the most unique collections in the country. It is our dream to have permanent exhibition space and full-time curatorial staff.
There are many ways to help support our efforts, and gifts of any amount are gratefully acknowledged. For example, you can designate a gift toward exhibition development, artifact conservation, graduate student fellowships, or student internships. Or funds could be designatated for lectureships, curatorial efforts, educational seminars, or storage maintenance.
Gifts can be given in memory or honor of a family member or a friend. Named gifts can be established for expendable funds and multi-year commitments can be set up for planned giving.
Whether you are an individual, a business, or a foundation, there are many ways to support the efforts of the Historic Costume and Textiles Museum.
Individual or Personal and Corporate Giving
We invite your business to support the Museum through corporate membership.
To make gifts or to become a member, contact:
Jeff Haug
Director of Development
College of Human Ecology
jeffh@ksufoundation.org
785-775-2061
Volunteer
Throughout the year, the HCTM seeks volunteers to assist with a variety of enjoyable and interesting projects, from greeting visitors, to cataloging new acquisitions, to helping with receptions.
Student Assistants
Students interested in helping with the Museum can have direct influence on Museum events and projects. Student assistants have the opportunity to enhance their knowledge of museum operations and the history of costume and textiles.
HCTM Social Networks
The Historic Costume and Textile Museum at Kansas State University engages closely with many entities in Manhattan, across Kansas and throughout the nation and globe, particularly the staff and friends of the Marianna Kistler Beach Museum of Art, the Manhattan Arts Council, the Strecker-Nelson Art Gallery, the Department of Fine Arts, Hale Library and others. We encourage these collaborations.