Origins of the Museum
The Historic Costume and Textile Museum at Kansas State University is composed of:
clothing and textile artifacts
accessories
implements and tools associated with the creation of clothing and/or textiles
a variety of paper artifacts such as patterns, period magazines and photographs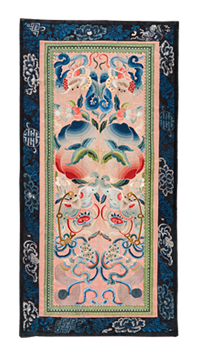 It began at the turn of the century with the articles that home economics professors collected as teaching examples and personal souvenirs. Pieces in the collection date back to as early as 1740 and as recent as the 1990s. It has since been augmented by donations and bequests of faculty, students, alumni and people throughout the world.
The museum collections are well-known for the collection of Chinese textiles from the Ch'ing Dynasty and many other ethnic costumes and textiles from across the globe.
The collection tracks the history of Kansas for over 200 years. In addition, the designer collection includes numerous American and European pieces such as Ann Fogarty, Nan Duskin, Ben Zuckerman, Jerry Silverman, Bill Blass, Halston, Oscar de LaRenta, Adolfo, Christian Dior, Geoffrey Beene, Pucci, Valentino, Schiaparelli and Paulene Trigere. Recently the collection was given a substantial donation from American Designer Calvin Klein and a collection of nearly 150 pairs of salon shoes from many well-known designers.
The most recent addition to the museum's collections features the work of Kansas-born designer and dress manufacturer Nell Donnelly Reed. The Nelly Don collection encompasses over ninety of her designs, patterns and patents.