Schyler Slaven
Tommy Bahama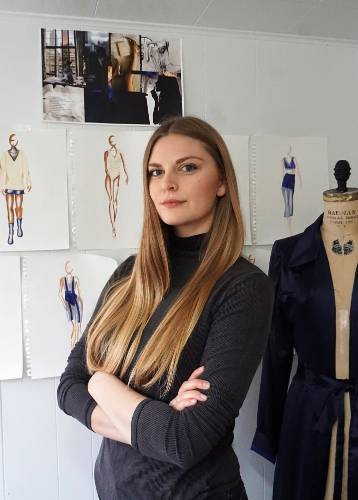 Men's Designer
Schyler received a B.S. in Apparel and Textiles, with a specialization in Design and Production as well as a minor in Business from Kansas State University in 2017. She started her career as a technical design intern at Lee Jeans where her main project was to build a virtual fit library for all men's and boy's fits.
After her internship, she moved into a full-time position as a men's denim pattern designer at Lee Jeans. As a pattern designer, she drafted patterns, created technical drawings, and communicated all details for new men's denim and short development. She initiated the 3D design process and collaborated with her team on new garment development while up-keeping all pattern and tech pack information. She was also responsible for managing prototype approval of new and carryover styles. After her time at Lee Jeans, she switched to a more creative role at Tommy Bahama in Seattle, WA as an associate designer for men's swim and outerwear.
As an associate designer, Schyler collaborates with her team to design and develop each season's product line, research trends, and address newness/big ideas that will drive volume and grow the business. Her main responsibilities are to provide sketches and detailed flats, build print/pattern colorways, prepare presentation boards, and develop trims for each season. She collaborates with the technical design & product development teams on design intent and construction as well as other cross functional teams including merchandising, wholesale partners, and sourcing. She was promoted and now is the men's designer.