Kinesiology Major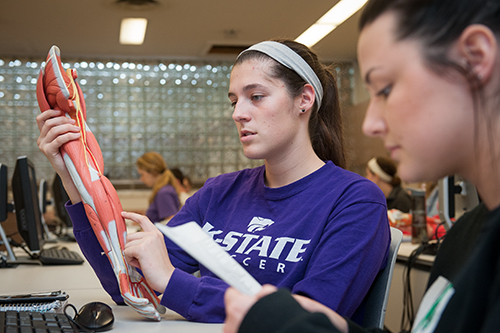 Kinesiology is the study of physical activity as it ranges from basic mechanisms of movement to the complex dynamics of physical activity in the context of human
health and well-being. Kinesiology students explore the importance of physical activity across a range of tasks, including exercise, daily living, play, sport and
work. Using both biological and behavioral approaches, the program combines biomechanical, physiological and sociological perspectives to examine physical activity from cell to society.
B.S. in Kinesiology Curriculum
Career Paths:
Physician, Physician Assistant, Chiropractor, Public Health Officer, Health Educator, Physical Therapist, Registered Nurse, Occupational Therapist, Strength and Conditioning Coach (additional education/certifications required)
Internships
An internship is an excellent opportunity to showcase your academic knowledge and practical skills in a real-world setting within the Kinesiology field. The internship should be designed to meet the needs of each student, with respect to their areas of expertise and future goals. If you are interested in completing an internship schedule a time to meet with the internship coordinator.
For More Information:
Please contact one of our Academic Advisors with specific questions and guidance on this degree path.
Meet Jordan Eberhardy, Junior in Kinesiology, studying to pursue a career as a Physical Therapist.