Students of the Month
March 2016
Cody Derby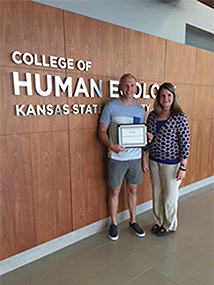 Senior
Athletic Training
Cody is currently serving as the president of Kansas State Athletic Training Association. He has completed a month long internship with the Atlanta Braves organization and will complete a second internship with them this summer.
"Cody is a leader who represents exactly what the role of an Athletic Training Student should look like. He has the ability to make those around him better professionals by challenging them to solve problems in ways they could not have done so before."
Rhiana Martin
Junior
Interior Design
Rhiana has been very active with a variety of ATID events such as the first annual portfolio competition, Design Expo, and Symposium. She is seen by her peers as a natural leader who is always willing to assist others around her.
"Rhiana is a great student who produces quality work that furthers the standards of the Interior Design program at K-State. She has been able to maintain high quality projects while also working part time."