Current Physical Activity Recommendations
How Much Physical Activity Should You Be Getting?
(Guidelines from the Centers for Disease Control and Prevention)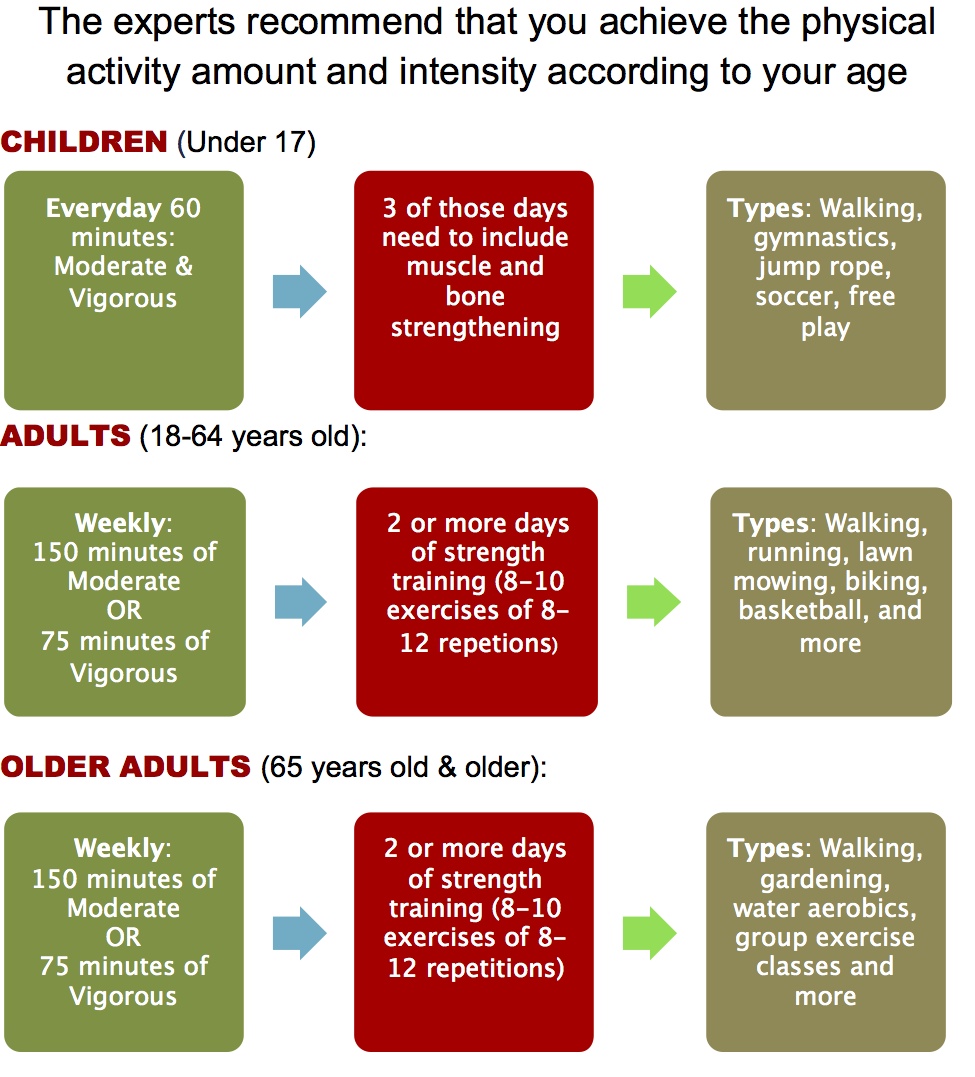 Muscle-Strengthening Activities
Strengthening activities work all the major muscle groups - legs, hips, back, chest, stomach, shoulders, and arms. These activities include, but are not limited to: lifting weights, push-ups, sit-ups, and working with resistance bands. Don't have weights? Common household items such as bottled water and soup cans can also be used.
Bone-Strengthening Activities
Bone-strengthening activities produce a force on the bones that promotes bone growth and strength. This force is commonly produced by impact with the ground. The good news: bone-strengthening activities can also be aerobic and muscle-strengthening like running, jumping rope, basketball, tennis, and hopscotch.
THE GOOD NEWS!
All physical activity counts towards your total daily count if accumulated in at least 10 minute bouts. For Example: A 10 minute walk in the morning, 10 minute bike ride or walk around the office in the afternoon, and 10 minutes of playing with your child or friends all count towards 30 minutes of activity required for that day! Also, if weekdays are too busy, you can perform all your physical activity over the weekend as long as you tally 150 minutes for moderate and 75 minutes for vigorous physical activity for that week.
Sample week of physical activity for a 55 year old female who meets recommendations:
| | | | |
| --- | --- | --- | --- |
| Day | Moderate Activity | Vigorous Activity | Strength Training |
| Monday | 2x 15 min walks | | |
| Tuesday | | | Resistant bands |
| Wednesday | 30 min walk | | |
| Thursday | | | |
| Friday | 25 min gardening | | Weight lifting |
| Saturday | 60 min bike ride | | |
| Sunday | 25 min house chores | | |
| Total per week | 150 minutes | 0 | 2 days |
Sample week of physical activity for a 23 year old male who meets/exceeds recommendations:
| | | | |
| --- | --- | --- | --- |
| Day | Moderate Activity | Vigorous Activity | Strength Training |
| Monday | 2x 10 min walk to class | | |
| Tuesday | | 45 minutes basketball | CrossFit |
| Wednesday | | | |
| Thursday | 2x 10 min walk to class | 30 min run | |
| Friday | | | CrossFit |
| Saturday | | | |
| Sunday | | 20 min run | |
| Total per week | 40 minutes | 95 minutes | 2 days |