Secondary Major - Emphasis in Long-Term Care Administration
Our secondary major in long term care administration is designed to prepare you for a career with the fastest growing segment of the U.S. population.
Between 2009 and 2019, the number of older Americans increased by 36% (14.4 million), compared to an increase of 3% for the under-65 population.
In Kansas, more than16% of the population was 65+ in 2019. This is an almost 28% increase in a 10 year period.
The 85+ older population is projected to more than double from 6.6 million in 2019 to 14.4 million in 2040 (118% increase).
By 2034, adults age 65+ are projected to outnumber children for the first time in U.S. history.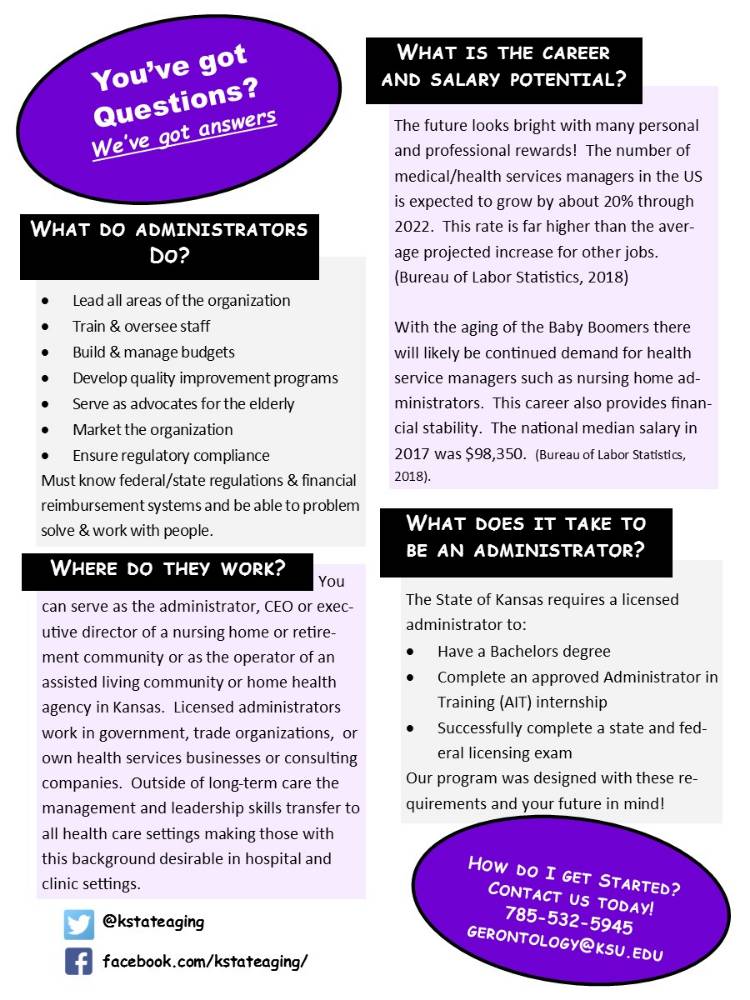 Printable pdf of requirements and elective course options
Is long term care administration the right career path for you?
Take this short quiz to find out.
Do you want to influence quality of life for older adults?

Do you have a passion for working with older people and their family members?

Are you hoping for a job that provides new experiences within a field that's constantly changing?

Are you interested in being a leader right out of college?

Are you interested in policy and its influence on people?

Are you looking for a career with a good salary and lots of opportunity?

Are you a risk taker, love problem solving and/or love a challenge?

Are you passionate about person-centered care?
If you answered yes to three or more of these questions then Long-term Care Administration just might be the career you will love.