Service Learning Opportunities
Potential FNDH Student Service Learning Activities in Guatemala
| | | | | |
| --- | --- | --- | --- | --- |
| | Mayan Families | Jabel Tinamit | Dr. Francisco Mendez | SHARE |
| Assist with pre-school meal preparation | ✔ | ❌ | ❌ | ❌ |
| English tutoring | ✔ | ✔ | ✔ | ✔ |
| Reading tutoring | ✔ | ✔ | ✔ | ✔ |
| Basic Nutrition lessons: child through adult | ✔ | ✔ | ✔ | ✔ |
| Focused Nutrition lessons: breastfeeding, reproductive health, sanitation and food hygiene | ✔ | ✔ | ✔ | ✔ |
| Community gardens | ✔ | ✔ | ✔ | ✔ |
| Cooking classes | ✔ | ✔ | ✔ | ✔ |
| Assist in medical clinic | ✔ | ❌ | ✔ | ❌ |
| Diabetes education | ✔ | ❌ | ✔ | ✔ |
| Adult work training programs | ✔ | ✔ | ✔ | ✔ |
| Teach Computer skills | ✔ | ✔ | ✔ | ✔ |
| Teach Leadership skills | ✔ | ✔ | ✔ | ✔ |
| Elderly food program | ✔ | ❌ | ❌ | ❌ |
| Empowerment classes for females | ❌ | ❌ | ❌ | ✔ |
| Community health assessments | ✔ | ✔ | ✔ | ✔ |
| Assist with medical home visits | ❌ | ❌ | ✔ | ❌ |
| Physical activity programs | ✔ | ✔ | ✔ | ✔ |
| Disease prevention programs | ✔ | ✔ | ✔ | ✔ |
| Data collection on health initiatives and outcomes assessment | ✔ | ✔ | ✔ | ✔ |
Potential Cultural Activities: Each of the villages in the Atitlan region offers unique opportunities. This is a sample of available activities:
San Marcos: hike up to see a Mayan traditional altar
Santiago: hike to Mayan temples and ruins, church where Father Rother (American Catholic priest) was murdered, beading shops, visit Maximon (historial Mayan deity), Cojolya Weaving Center and Museum
San Pedro: famous local painter, visit with Mayan midwife
San Juan: natural dyes, weaving cooperatives
San Antonio: pottery making, textile shops
Solola: women's weaving cooperative
Chichicastenango: world-famous market day, Church of Santo Tomas (400 years old)
Santa Catarina: hot springs, onion fields, corn plantations, flower fields
Atitlan Nature Reserve
Antigua: original colonial Spanish capitol of Central America, numerous historical colonial church ruins,
All villages: traditional processions during Holy Week
Excursions to other Mayan villages and Mayan architectural ruins arranged by official partner SHARE
Joy's Story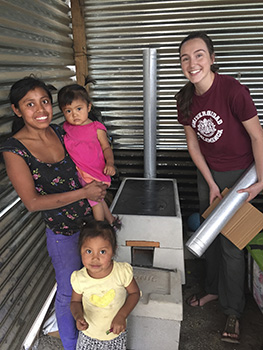 We arrived a 12" by 12" structure made from sheets of corrugated tin, the home of a small Guatemalan family, to install a wood stove. The purpose of our task was to provide not only a surface to cook on but also a ventilation system to move smoke outside of the home. Without it, this mother and her two young daughters would be at a much higher risk of respiratory diseases and burns. Supporting this family by providing needs as basic as cooked food and clean air was an eye-opening experience. Families throughout Guatemala suffer from preventable diseases that can often be reversed through simple education or the provision of basic resources. We laid the last brick and showed the family their new stove. The young mom looked at us with a smile and her phrase of thanks, "Que Dios bendiga a tu familia" "May God bless your family."